General Information:
---
AQUATICS PROGRAMS & FACILITIES
2019 Swim Lesson and Summer Aquatics Information
will be published in early April!

Strong Swimmer? Be a Lifeguard!
Lifeguarding is a leadership position where you will learn to handle emergencies in, on and around the water. Glendale conducts interviews to hire summer, certified lifeguards, 15 years or older, at our two aquatics centers.
WHO: Anyone who is lifeguard certified and at least 15 years old can apply for lifeguard; swim instructor applicants must be at least 16 years old and WSI certified
WHAT: The city of Glendale is looking to fill temporary aquatics lifeguard and swim instructor positions
WHERE: Glendale's two aquatics centers are located at 5600 W. Union Hills Dr. (Foothills)
and 5003 W. Marlette Ave. (Rose Lane)
WHEN: Potential employees must be available during the entire aquatics season starting in early May 2019 through early September 2019. Some pools may remain open during evening hours and on weekends through Labor Day weekend.
Applying for a Lifeguard Job with Glendale
When Glendale has certified lifeguard positions available, the jobs will be posted
here
. If you do not see a part-time position posted, you can still register your application and then check back for the posting you are interested in. Click on the APPLY link whenever you see a job you want to be considered for. A resume may NOT take the place of an official application.
---
Glendale Adult Center Events:
Social Dance!
2nd & 4th Thursdays
1:00 – 2:00 p.m.
FREE! - Sponsored by Sandra Gomez
Music from the 50's, 60's & 70's with DJ John Urzi. John Urzi is also known as "Johnny Knight" for over 30 years at various radio stations from St. Louis to Arizona. John will play music from the 50's and 60's and interacts with the audience to provide a fun and enjoyable dance experience.
Sham-Rock the House with "Dale Matthies" & His Accordion! St. Patrick's Day Luncheon Friday, March 15th from 10:30 a.m. - 12:30 p.m.
Enjoy a traditional corn beef and cabbage lunch. Come dressed in green and join us and see if you have the Luck O'the Irish to win one of the many great door prizes sponsored by Sandra Gomez. Tickets are $6 member, $8 non-member.
---
Glendale Dog Parks:
Foothills Park, 57th Avenue and Union Hills Drive, has an area located northeast of the softball complex and access is from the Foothills Library parking lot. Two separate areas allow for monthly rotation of use. Signs at the park provide direction as to which side is 'open.'
Each side provides separate areas for large and small dogs that include: grass, shade, water, and benches. An agility course is available within the east side area.
The dog park is closed on Wednesdays.
CLICK HERE to view the Foothills Dog Park video!
Sahuaro Ranch Park
Sahuaro Ranch Park
, 63rd Avenue and Mountain View Road, has an off-leash dog area just north of the west parking lot and just south of the softball complex. With an area for small dogs, water fountains, waste stations and some dog agility equipment, this is a great place to bring the pooch for a doggie play day.
The dog park is closed on Tuesdays.
Northern Horizon Park
Northern Horizon Park, 63rd and Northern Avenues, has a large fenced-in play area, a play area for small dogs, water fountains, shade trees benches and waste stations. This is Glendale's largest dog park.
The dog park is closed on Mondays.
---
Glendale Hiking Trails: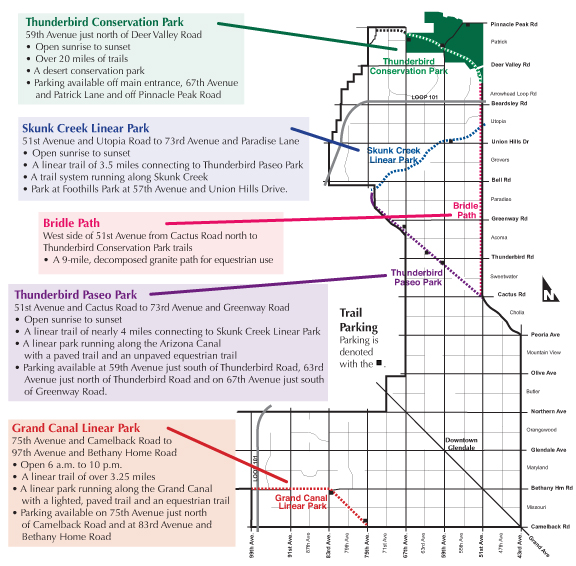 ---